When Patti Navarro talks about her life, a word she often uses is proud. As the first transgender resident at the Jewish Home & Rehab Center (JHRC) on the San Francisco Campus for Jewish Living (SFCJL), she was instrumental in making its first PRIDE event happen. Working with staff to organize, she invited some of her friends to perform a drag show for all the residents. The show was a hit and it was the beginning of our campus' annual PRIDE celebrations, an accomplishment which is particularly meaningful for her.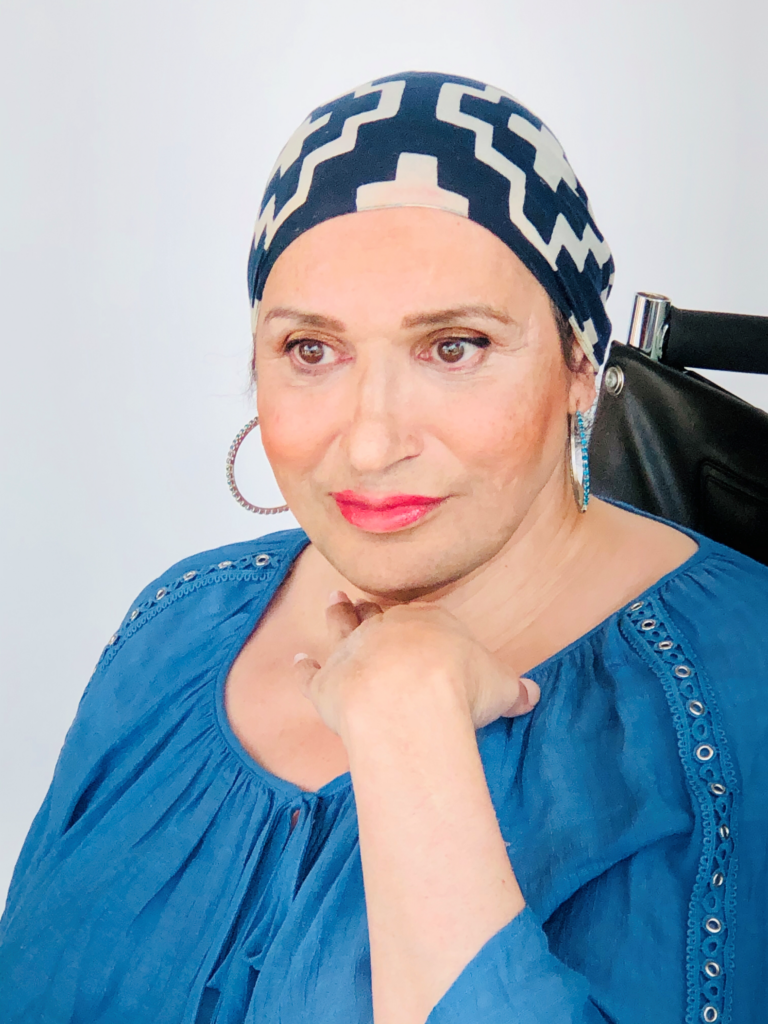 Patti has come a long way from the 15-year-old who had to leave home because her parents couldn't accept who she was. From those early days of finding a family among the LGBTQ youth of Los Angeles, the story she tells is one of making her own way and discovering herself in a world that wasn't always kind. Life was often hard for her and she frequently struggled to find acceptance, even among the LGBTQ community. It's inspiring to hear how she persevered and remained true to herself, and—through it all—how she was devoted to helping others.
The work she's done to pave the way for those who have followed in her footsteps is what makes her feel fulfilled. That work started in the 1970s, when Patti was living in Hollywood and trained as a counselor at what was then the Gay Community Service Center. After she moved to San Francisco in the early 1980s, she volunteered for a trans support group. A recent MHSA Awards Certificate of Achievement (honoring the achievements of current and former clients in Mental Health Services Act-funded programs in San Francisco) holds pride of place in her room.
Patti is most proud of her ability to counsel young trans people, giving them more hope and opportunity than she had. She says she's happy to have lived long enough to see attitudes change. "It's beautiful to see young LGBTQ people know what they want to be and have support from their families and community," she says. Although she admits we still have a long way to go, she says the world is a much better place for LGBTQ people than it was in the 1960s, 1970s, and 1980s.
Shortly before she had the stroke that would bring her to short-term care rehab at JHRC, Patti legally changed her name and gender, which she says was very freeing. It meant a lot to her that when she moved to our long-term skilled nursing facility she could be wholly and officially herself. No one here knew her from her life before, which meant she could just be Patti.
After she became a long-term care resident, Patti says she really wanted to learn about the Jewish culture and its traditions. She spent lots of time studying with our now-retired Rabbi Sheldon Marder. "It's good to see different cultures coming together and learning about each other," she says. These days, Patti likes to spend her time reading, keeping up to date on current events, and participating in various multi-generational programs with our student volunteers. True to form, Patti also participates in a resident support group. She says she finally feels at home.
It takes the support of an entire community to care for an aging population with varying levels of means and longer life expectancies. 96 percent of our skilled nursing residents rely on Medi-Cal, which, while helpful, does not cover the full cost of caring for these most vulnerable residents. We rely on generous donor contributions to meet our residents' charitable needs and to help Bay Area seniors live healthier and fuller lives. Learn how you can support our community's most vulnerable elderly.