By Keyatta Shade, Director of Volunteer Services
It is often said that volunteers are the lifeblood of an organization. The value of the dedication they bring to any nonprofit, especially in the healthcare industry, is sometimes hard to measure. At San Francisco Campus for Jewish Living, rehabilitation volunteers bring value to our licensed therapists, Orthopædic and Neurological Rehabilitation Department (ONR), with benefits for volunteers, professionals, and patients alike.
For the last 20 plus years, the rehabilitation team has partnered with SFCJL's Volunteer Services Department to allow those who are considering a career in rehabilitation the opportunity to learn by shadowing and supporting our staff on site.
Many physical therapy institutions require students to have a specific number of volunteer services hours in a healthcare setting before they are admitted to their programs, so volunteering at SFCJL is often the perfect opportunity for many of those students to meet those requirements. Volunteers have opportunities to observe gym and one-on-one treatments, including the chart review, and to ask questions of our professional staff, transport patients, and even participate in light patient exercises, under the supervision of a Physical Therapist or Occupational Therapist.
April Perez, Long-Term Care Director of ONR, expressed how the benefits of this volunteer support can be very altruistic in nature: "This really gives our RNAs and PTs an opportunity to give back to the community, which is very valuable for the therapists. Also, the volunteers who are here have such a high level of interests, and it makes my staff think ahead so they can encourage the volunteers and speak to their profession. It's an opportunity for them to help mold the volunteers for a possible healthcare career."
Jewish Home staff also appreciate the different skills that volunteers bring to the table and their willingness to help in a variety of areas. "It's great to have volunteers from different backgrounds. Especially when we have a language barrier with patients. It's very helpful when they can translate for us," RNA, Aida Gonzales said.
The benefits of this opportunity can often lead to a professional career directly with SFCJL, as it was with Robert Chiu, a PT Assistant, now with our ONR team, who served as a volunteer in 2018. "During my employment interview for my current position at SFCJL, l believe they were pleasantly surprised to hear that I was a former volunteer here. In fact, my current station is the exact location of where I spent my time volunteering."
"Every chance I had, I would attempt to interact with a patient," Robert said.
"It was a joy listening to their stories and learning what their lives were like before they arrived at SFCJL."
During his time as a volunteer, Robert often shadowed various therapists who would explain patient history and goals, as well as addressing certain patient deficits. "I would then do my own research and find more information on medical terminology and common diagnoses that I would hear," Robert said.
One area that is often overlooked is the opportunity for connection that is made between our residents and volunteers. "Every chance I had, I would attempt to interact with a patient," Robert said. "It was a joy listening to their stories and learning what their lives were like before they arrived at SFCJL."
April Perez says she sees firsthand how much the residents appreciate the volunteers' willingness to get to know the residents on a personal level. It's especially important during the pandemic when family and friends are not allowed on campus as much as they would like to see the residents and patients. "The volunteers are always introducing themselves to the residents and asking how they are doing or how their session was, instead of just transporting them and dropping them off in silence. It's great," Perez said.
The relationship between volunteers and physical therapy clearly has benefits on both sides of the equation. The different treatment styles and disciplines offered, how they work together, and the level of care offered at SFCJL is a big draw for those with an interest in this field. "I think that longevity of the relationship between the volunteers and the organization is important," Perez said. "I always encourage volunteers to keep that bridge strong, so they can possibly have a place to work when they are in the professional world."
SFCJL's ONR department gives both long-term care residents and short-term patients the opportunity to maximize their potential through skilled and restorative rehabilitation services, with the expressed goal to allow those individuals to live as independently as possible. Physical and Occupational Therapists, with the help of Restorative Nurse Assistants (RNAs) provide training to promote, maintain, and restore health to participants.
For more information about our Volunteer Services Department, click here.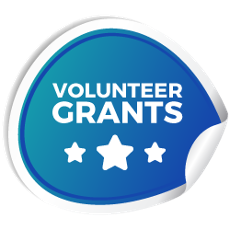 Did you know you that many corporations have volunteer grant programs in which they provide monetary donations to organizations where employees volunteer? It's an easy way to further support SFCJL!
Click here to see if your company has a matching gift program.