Across our campus, our arts and cultural programs are some of our most popular activities for residents and patients alike. Decades of research demonstrate that music and art can make a dramatic difference particularly for older adults living with dementia.
One recent highlight – on Dec. 8, dozens of residents attended a special program about the history of the Nutcracker ballet, in our new Barbro and Bernard Osher Performance Center. Two educators and historians from the San Francisco Ballet led a lecture followed by interactive chair ballet, accompanied by one of the SF Ballet's pianist. The experience brought joy to everyone who attended.
Cultural Programs and Virtual Excursions
Earlier this year, residents in both the Jewish Home & Rehab Center (JHRC) and Frank Residences were delighted to "attend" a mini-SF Jewish Film Festival with festival films streamed through our in-house television channel followed by lively, engaging conversations facilitated by life enrichment staff about the film they had just viewed and what was up next on the mini-festival schedule. Frank residents also enjoyed a virtual docent-led tour of the de Young Museum Exhibit Ramses the Great and the Golf of the Pharaohs. This "excursion" was so popular that a partnership was formed with the de Young to offer our residents ongoing "tours" of the museum's changing exhibits.
Creating Art
JHRC residents come together to create art in our on-campus art atrium in the Friedman Pavilion. And, as an added bonus and based on the success of the "traveling art studio" created during the pandemic, Monica Lee (our Creative Arts Specialist) continues to set up in JHRC's residential units several times each week. Shoshana Gleit works to create artistic masterpieces with our assisted living residents in the Eugene Friend & Julian Davis Art Studio. In November, our residents took great pride in showcasing their works at the second annual art show in The Lev (Hebrew for The Heart) in Byer Square.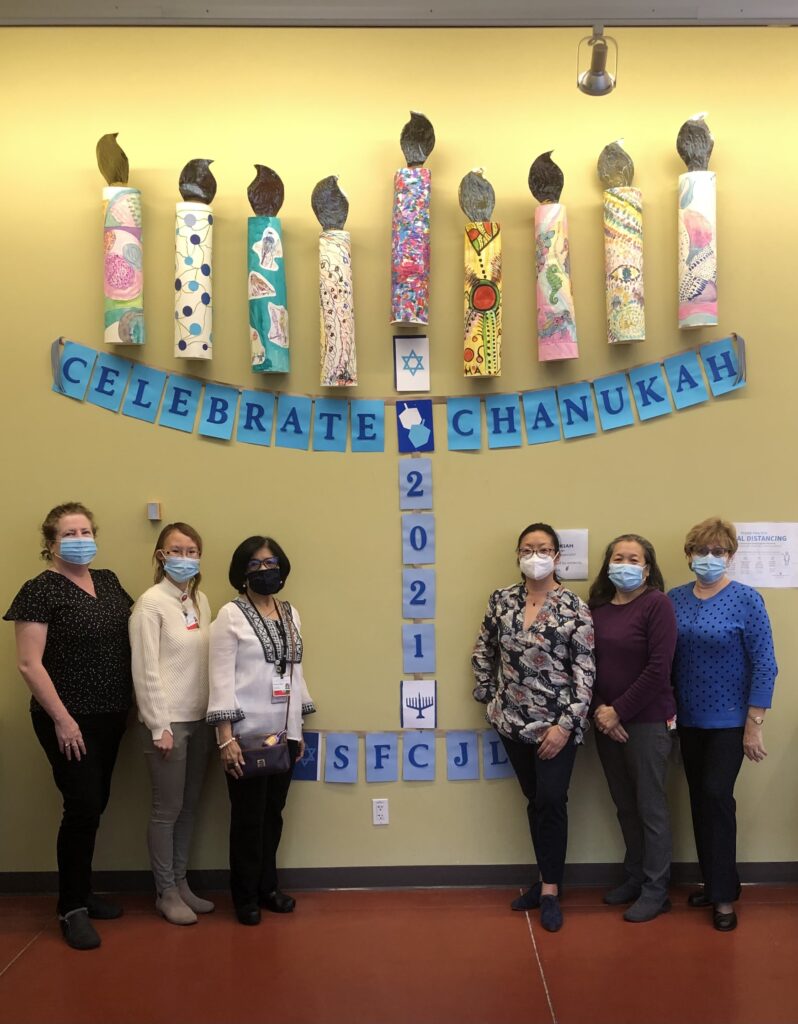 Sharing Stories
In partnership with Litquake's Elder Writing Project, Frank Residences residents engage with volunteers in bi-monthly sessions to learn the skill and art of creative writing, focusing on genres such as poetry, memoirs, fiction, and non-fiction. Earlier this year, after 12 weeks of opening new pathways to self-expression and greater socialization, an anthology of residents' writings was published and performed at a live reading for friends and loved ones both virtually and in-person in the Osher Performance Center.
Live Concerts and Performances
Live concerts and performances have been a mainstay of life enrichment programming since SFCJL's earliest days. Some of the performers who share their musical talents with us include…
The Moonglow Trio offers their warm acoustic mixture of sounds from the Great American Songbook, jazz standards, classical music, vintage rock 'n' roll, Latin, Gypsy Jazz, Western swing, and contemporary pop.  
The always-popular Rebbe Soul shares his unique blend of Jewish rock incorporating folk, soul, jazz, new-age, and world-beat.   
A newer performer delighting our residents is Carl Winters, alias The Kalimba King, entertaining with jazz, gospel, blues, pop, and original songs on the ethereal, mysterious kalimba, also known as the African thumb piano.   
Jeffrey Gaeto, SFCJL piano player extraordinaire, tickles the ivories every Thursday afternoon to the enjoyment of our Frank residents.