Two years after the Frank Residences and Byer Square opened their doors, the donors who contributed to the $100M campaign finally gathered on campus to see the building and its thriving community. More than 100 donors contributed $100M to help the San Francisco Campus for Jewish Living build the Frank Residences and Byer Square as part of the Live.Grow.Flourish. campaign. On October 26, many of them gathered to see the results of their generosity and to celebrate the past, present and future of SFCJL.
Two residents, Marleen Norman and Kathy Kenley-Johnson, spoke at the breakfast. Here are their remarks.
MARLEEN NORMAN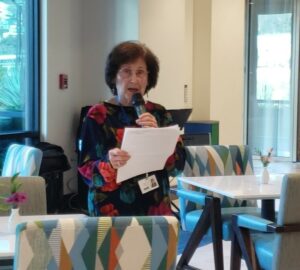 I first encountered the Jewish Home in 1987 when I was hired to be a social worker in the new acute geriatric psychiatry unit. I loved the patients and my colleagues. When I left three years later to go into private practice, I missed the residents and staff so much that I signed up to volunteer. 
For 27 years, as a volunteer, I visited this campus weekly, sometimes twice a week. I assisted with Shabbat services and the High Holy Days. The rabbi asked me to conduct Shabbat services if he couldn't be there. I only stopped volunteering when the pandemic began. 
Being a frequent visitor, I heard about the Frank Residences long before ground broke. I watched as construction began and the building began to take shape. I thought, maybe my husband, Alan, and I, should consider moving in? It seemed proactive – to move in when we were well enough to make the choice, rather than having the choice made for us. 
Prospective residents need to undergo a physical before moving in. It was during that physical that doctors caught my husband's rare and incurable cancer. We would not have otherwise known. It seemed like beshert, like we had been guided by an unseen hand. But it also delayed our decision to move in because we focused first on Alan's health. 
A year later, which was one year ago last month, an apartment was still available for us, and we finally we were ready to join the Frank Residences. At that point, Alan was put on hospice.  
Coming to live here was like coming home. 
I honestly can't imagine navigating the chaos of the past year if we still lived at our house. It would have been absolutely impossible. It's a huge relief for me not to have to cook or clean or shop and take care of Alan, too.  The healthcare resources here have been invaluable, but the community, for me, is the big draw. The fitness center and the staff helped me get through some of the darkest moments. Also as a cabaret singer, I have loved being a part of the holiday celebrations and cabaret performances at the Osher Performance Center. 
People I'd never otherwise meet have become very good friends. We're like a family. And like families, there are difficulties, but there's also that closeness. You know that people will have your back. I wasn't anticipating that.  To be sure, as a new institution, there have been growing pains, but I've appreciated the opportunity to find solutions with my fellow Resident Council members. 
I'm sincerely grateful to be a part of this community. Thank you for your generosity that created the place I now call home.  
KATHY JOHNSON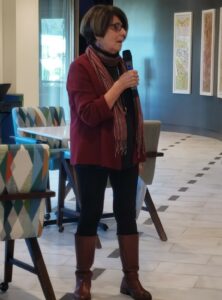 I want to thank you for your generosity that made Frank Residences possible. My husband and I were the second family to sign up. We signed up when there was no building, just broken ground, a model, and a vision. That vision was enough for us.  My husband, Anatole, is in memory care. He's a retired college professor who no longer reads or writes or does email. I moved in to support his transition and I thought I was going to be here for two months.
Now, look at me! Two years later, I'm still here. I've grown to love this community. I now found myself as the president of the Residents' Advisory Council.
As you know, the state mandates a resident advisory council. Its purpose is to serve as a liaison to the administration, which usually means channeling complaints. But I and others see another more important purpose, and that is creating community. The resident council is an opportunity for people to come together, to talk about the vision for how we want to live, and you have all made that possible.
Given our newness, we have the unique opportunity to be semi-unstructured, so there are a lot of openings and a lot of flexibility. We're pioneers. And we really relish that.
The climate here is vibrant. There's a lot of energy. When you take your tour, look for the ways our residents contribute to this community. Take a look at the garden—that's a product of the gardeners' club. When you travel by the reception desk, pick up a copy of Frankly Speaking. It's the monthly resident newsletter featuring residents' stories, activities, and history. There's the Fabulous Frankies who serenade us with cabaret tours. There are programs like the Men's Group and the Torah Study Group, which meets on Fridays after Shabbat services. Coming up soon, we have a celebration for the Day of the Dead, that celebrates the residents who have passed using Latino traditions.
I hope you come back next year to see how your generosity has made us flourish, and to see how we multiply. Thank you very much.