By Katherine Tick
Living Our Jewish Values is an initiative we launched earlier this year to strengthen the feeling of community and enrich the spiritual experience for residents and their families, staff, and volunteers, by aligning ourselves with the Jewish values that are the foundation of our organization. This includes programs, activities, and events that are based on essential Jewish values, yet encompassing secular and other faiths' important holidays and commemorations, thus creating a kind of 'meeting place.' Knowing that our Jewish values are truly universal in nature allows us to create bridges of understanding that lead to more meaningful experiences for everyone. Each month we focus on a specific theme or value.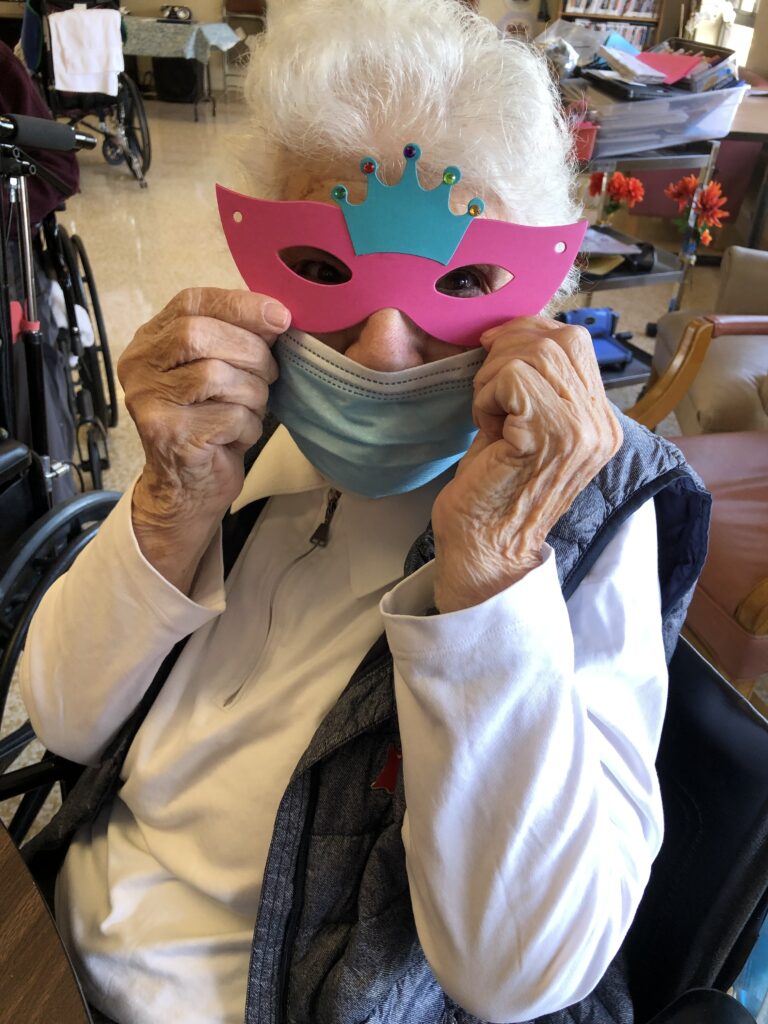 In March, we celebrated Eishet Chayil. Generally translated as "Woman of Valor," Eishet Chayil is a portion from the Book of Proverbs that is generally sung before Shabbos dinner as a way to give honor to the mother or matriarch of the family. We embraced this theme by Celebrating Women's Voices, which was most fitting for a month in which we recognized Purim's two heroines, Queen Esther & Vashti, and celebrated International Women's Day. Across campus, we held a plethora of programs and activities to bring the theme to life.
Frank Residences celebrated the first annual Purim Spiel in Byer Square with a program filled with costumes, hamantashen, music, and general frivolity. Residents and staff told the story of Purim through song and dance, highlighting the important lessons the holiday teaches all of us. At the Jewish Home & Rehab Center, residents celebrated with our Rabbis and Life Enrichment staff in costume, playing games, and general good cheer. Of course, there was plenty of hamantashen for everyone!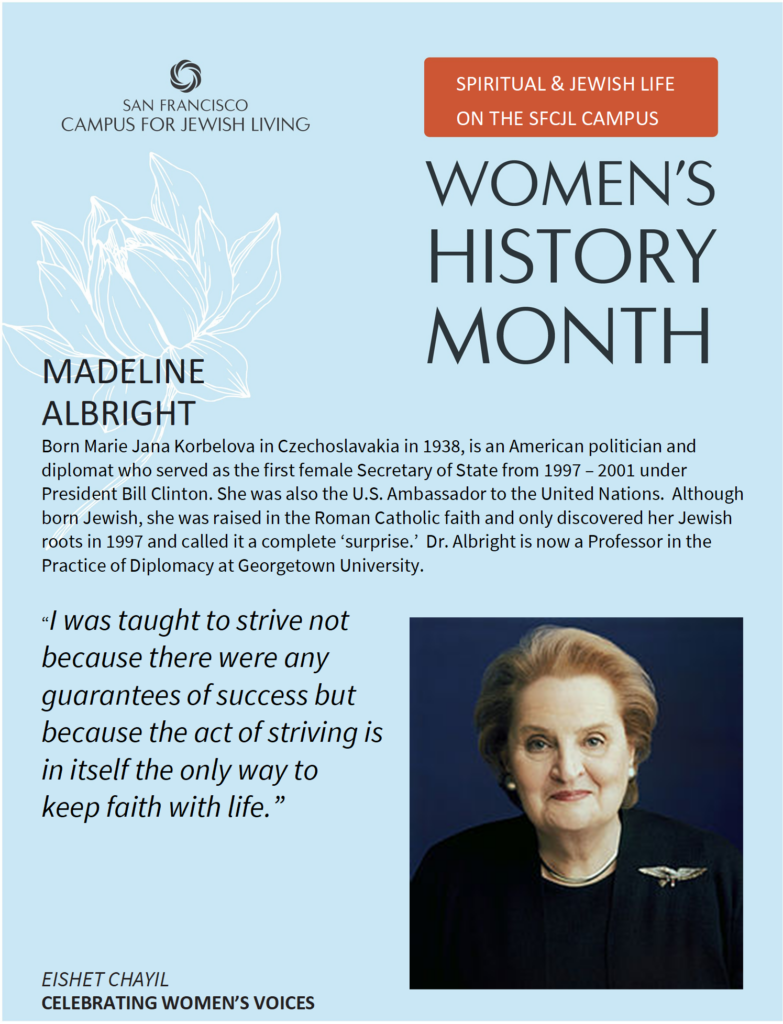 Throughout the month, we took the opportunity to celebrate the voices and achievements of a number of noteworthy women, some through documentaries, some through rich conversation, and others through digital display (photos do tell a thousand words). These included Ruth Bader Ginsburg, Susan B. Anthony, Hannah Senesh (a Jewish partisan, paratrooper, and poet), Toni Morrison, and Marie Curie. We screened several movies about important feminist leaders Stacy London, Betty Friedan, and Gloria Steinem, and a film highlighting the first 100 years of Women's Voting Rights leaders. We watched Barbra Streisand in 'Yentl' and her voice brought smiles to all who listened. We also highlighted weekly 'heroines' with flyers about them posted throughout campus. Indeed, Madeline Albright (z'l) was adorning the walls on the day she died. What greater homage could we pay than to have her grace us with her presence!
Other programs included a concert in Osher Performance Center with the Rock N Roll band Graystone—named for their gray hair—led by Jamie Pellicer. And during a few Saturday "Frank Talks" (a regular program during which volunteer students from the Achieve program engage in discussions with residents), topics included Ketanji Brown Jackson, her grueling committee interview, and her eventual election to the Supreme Court.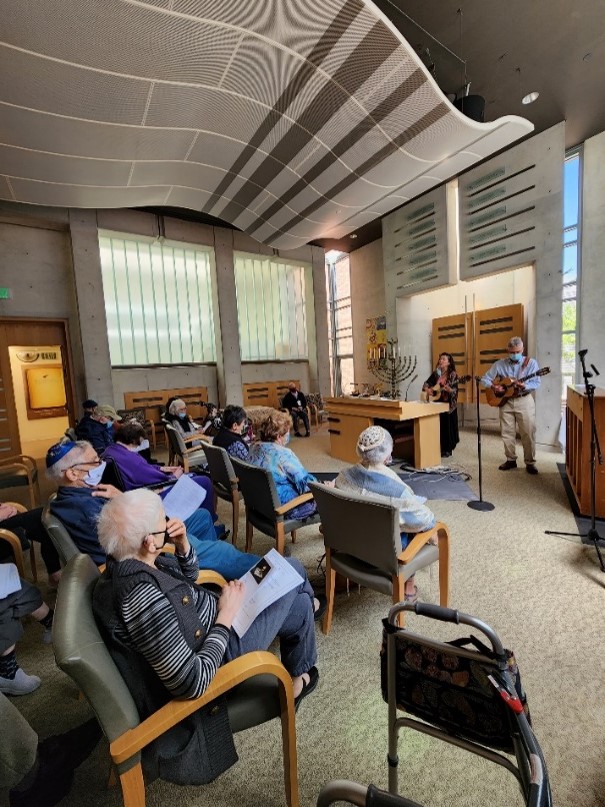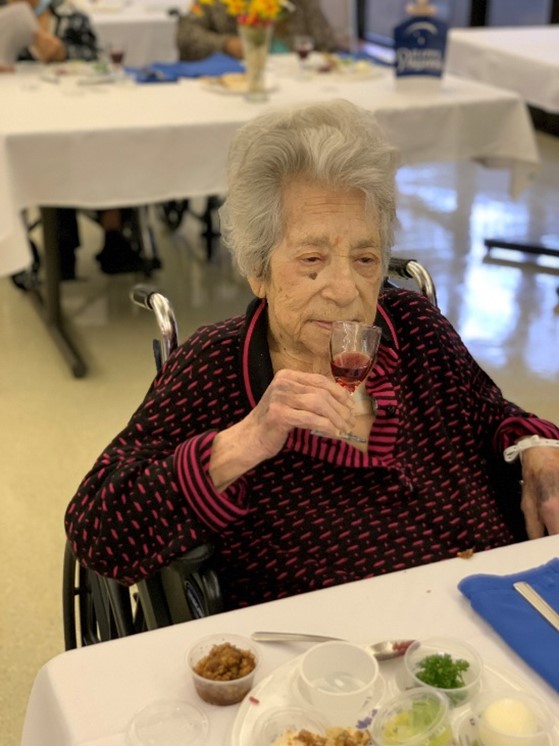 April brought us Passover and what a time we had! At the Jewish Home & Rehab Center we held no fewer than ten Seders, one on each residential unit, and Frank Residences held a communal Seder in Osher Performance Center. Whether big or small, every Passover celebration across campus featured traditional accoutrements (think charoset and eggs, matzah and maror) and readings from Haggadot to tell the Exodus story. In addition, we held powerful Yizkor (memorial) services to honor those who are no longer here with us and to reflect on our experience of the challenging days of the pandemic. These included a service in our synagogue, Congregation L'Dor V'Dor, and the creation of a Memorial Rock Garden, especially focused on staff expression of their experience during Covid.
Throughout our observance of this most important holiday, we recognized the gifts of freedom and tradition we all hold, no matter our personal religious or spiritual affiliation.
To round out our Spring, we also celebrated Earth Day, with films and readings about the history of the holiday and several outdoor fitness classes during which participants were encouraged to reflect on one thing the Earth produces that gives them great joy.
It is because of our Jewish identity, not despite it, that we work to ensure a supportive and caring spiritual environment for all residents, patients, and their families regardless of their religion. Learn more about the ways you can support our Spiritual Life Program.